£20,000 is an amazing amount of money to win on the football pools by today's standards, but when Tom Hartley of 121 Higher Audley Street, Blackburn received his winner's cheque on the stage at The Majestic Cinema in September 1928 it was a record breaking achievement that made the pages of the Sunday Mirror. For Tom, who earned £2 a week as a mill worker, he was the single winning ticket holder that week and it looked like life would never be the same again.
'It's no use letting a thing like that spoil you', he said at the time.
The presentation took place in the days of The Exchange, Blackburn as The Majestic Cinema. According to reports of the occasion in the British Newspaper Archives, Tom arrived in style in an open topped car in a procession headed by the British Legion Band. He was wearing a flower in his button hole, thrown to him by a member of the crowd as he stepped on stage to accept the cheque from the Mayor of Blackburn, Councillor James Ormerod, while Mrs Hartley looked on happily from the balcony.
As he waved the cheque aloft, the crowd gave him three cheers and laughed as he exclaimed that he had had a hard week, but he had received a good wage. However, this was no lucky win. Tom was keen to stress that he had used years of performance observation and skilful calculation predicting the results of the league matches which were played on the 8th September. That was the day of his 44th birthday when his home team, Blackburn Rovers played away against Bolton Wanderers.
Birthday Celebrations!
'Many happy returns, Tom' said Maggie, as he left home that morning to start his shift in the cotton mills at 7am.
'Thanks, dear,' he replied, 'And I hope the teams will bring me luck as well!'
Tom Hartley's story is heartwarming. According to a special feature in the Sunday Mirror, 16 September 1928 he and his wife Maggie met at the age of 11 working at the Griffin Cotton Mills of Messrs Thomas Dugdale Brother and co and worked side by side at the looms ever since, apart from when he went to fight in the Great War where he was injured at Ypres whilst serving with the Lancaster Regiment. Tom and Maggie had no children but planned to gift some of the money to their nieces and nephews and to donate some to the Blackburn Royal Infirmary.
Mr Hartley said, 'Blind Forecast is Folly'
According to interviews, Tom had spent many years studying the art of forecasting and on the big day paid tribute to his team's 3-0 victory over Bolton Wanderers.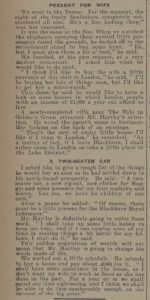 Soon after his win, the Sunday Mirror article reported on Tom's first visit to see the sights of London. The journalist who accompanied him on this trip, was keen to find out what psychological impact there had been on the humble mill worker now able to retire and live a life of luxury. However, it seems he wasn't able to get much of a reaction and remained rather amused at Tom's down to earth attitude and his 'quant Lancashire accent' as they lunched in a modest restaurant. During Tom's big day out he remarked on a burley Beefeater at the Tower of London as a 'fine looking chap'  and how he dashed off to the refreshment stand for some buns to feed the elephants at London Zoo saying, 'Eh, but I must give them a bit of food.'
Tom talked about buying a two seater car, a present of a wrist watch for his wife and travelling for year before spending about £500 on a house, perhaps in London or the Lake District.
Are  you a relative of Tom and Maggie Hartley of Higher Audley? Do you know what happened to them? We'd love to know. Contact our volunteer archivist, Harriet@exchangeblackburn.org.uk
Research from the British Newspaper Archives